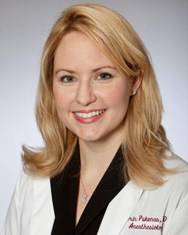 The Division of Patient Safety and Quality Clinical Effectiveness is responsible for oversight of the delivery of high quality, safe patient care in anesthesiology. The Division has led the department in achieving excellence in quality metrics related to value-based purchasing and pay-for-performance and has positively contributed to the composite safety scoring of the health system. The division has created clinical and operational efficiency metrics to benchmark and improve upon processes that impact our patient care management and experience. The Division is consistently recognized for its work and commitment to patient safety.
Our residents actively participate in quality projects and engage in principles of Lean/Six Sigma. Our residents are an integral part of our Performance Improvement Committee and over the course of their residency learn about quality reporting, performance review, population health, perioperative surgical home principles and perioperative safety initiatives. All residents work in teams and are required to participate in a quality improvement project for which they have received multiple awards and recognitions.
Our faculty members are leaders in the development and implementation of several safety and quality endeavors, including critical events checklists, cognitive aids designed to improve team performance and patient outcomes and improving perioperative handoff processes. We have been among the first to publish curriculum for resident handoff communication and to successfully execute processes to overcome safety barriers during patient care transitions in the ambulatory setting. Our faculty hold numerous positions in national leadership committees and organizations dedicated to safe patient care, including the Emergency Manual Implementation Collaborative, the Society for Pediatric Anesthesiology, the American Society of Anesthesiology, the National Patient Safety Foundation and the American Board of Anesthesiology.
Erin Pukenas, MD
Vice Chief/Vice Chair for Administrative Affairs
Assistant Dean of Student Affairs, CMSRU